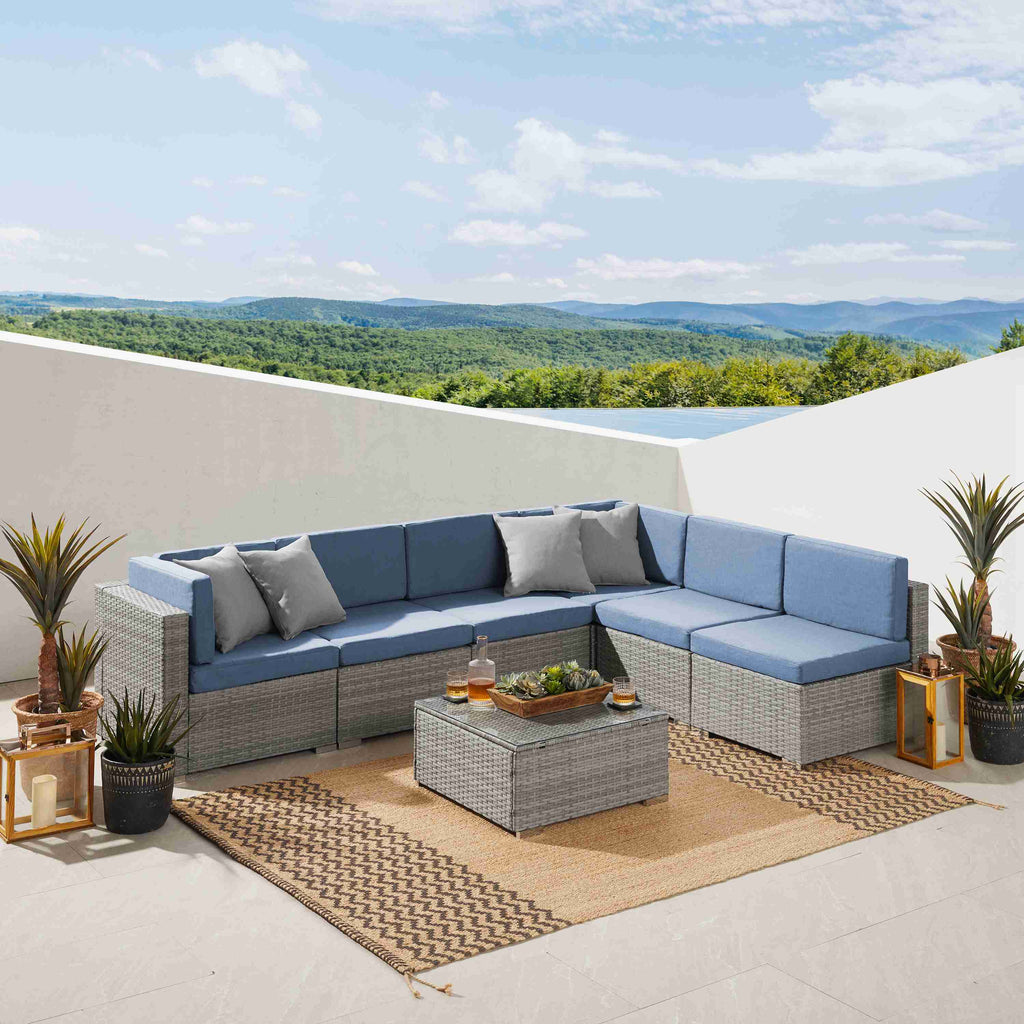 Furnishing outdoor space is not always easy, but you can make any outdoor space feel complete with a few thoughtful ideas and a dash of creativity. Outdoor sectional space is great for entertaining friends and relaxing with your family. The best thing you can do is to make the selection of furniture based on how you and your family will use them. A well-furnished outdoor space will provide a comfortable place to read, cook, entertain and relax.
 Contents[hide]
Selecting the Furniture
Here are some factors that you should consider
FAQs
You may want to know:
Selecting the Furniture
When choosing your outdoor sectional furniture there are certain things that you are supposed to consider.
Here are some factors that you should consider
Size
When choosing the size of the sofa sectional, it is vital that you take into consideration the size of your outdoor space. You can choose the size of the sectional based on your living space. It is important to make sure that you pick a size that will fit in well with your other furniture. The most important thing to remember here is that you should have a sectional sofa or couch large enough for everyone to sit at once without overcrowding it. This way you will be able to enjoy time together with your friends as well as a family but still have enough room for people to move freely around. Outdoor sectional furniture should be big enough to offer wide space for sitting and also big enough for your family. The size of the furniture will determine how many people will be sitting at once. For a small outdoor sectional, you can select small furniture that will accommodate 4 to 5 people at a time.

Style

When selecting outdoor sectional furniture, it is easy to get carried away with the latest trends with the choices in styles and colours; however, your personal taste should always be considered first. There are a number of different styles available today when it comes to outdoor sectional furniture which can include sectionals that are large and small, chaise longues and loungers. You should always try out your options before selecting a specific model as every style has its own strengths, and weaknesses as well as advantages or disadvantages. The style of outdoor sectional furniture is quite different from that of its indoor counterpart. The outdoor furniture is made of more durable materials with more rugged designs.

Materials

The selection of the material for your outdoor sectional can also make a difference. They are made from a number of different materials, including aluminium, plastic and wood. Wood is often the most durable patio furniture; however, it can be pricey. Plastic patio furniture is usually sold as an assembly kit consisting of various pieces and parts that are held together by glue or thread to form an entire patio set. The primary disadvantage of plastic is that the plastic cannot withstand the sun very well. It will quickly fade or crack. For wood, you should choose one that will be durable and resistant to rain. The price of wood is more affordable than those made of aluminium or plastic.

Ease of Assembly

The ease of assembly is another factor you must consider when selecting the outdoor sectional. The product will come with all necessary accessories such as screws and bolts to form the legs, the anchors, casters and bars for stability. If you need to assemble it yourself, do not hesitate to ask your friends for help. If you cannot assemble them yourself, just make sure that you follow the directions carefully when assembling your furniture.
Your Taste and Style

When you are choosing outdoor sectional furniture, you should make sure that you choose something that will go well with your style. You should also consider the comfort of your outdoor sectional. Make sure to select one that will provide enough space and privacy so you can enjoy your time outside with friends and family. You can also change the sling fabric according to your personal taste or the colour pallet of your garden or patio. If you are a special guest coming over, it is wise to change it for a more formal settings.

Your Budget

The price of the outdoor sectional furniture is quite expensive but do not worry. You can always compare prices between different manufacturers and stores to find out which offers the best price for a similar set of outdoor sectional furniture. As mentioned before, it is also possible to buy the garden or patio set in separate parts to cut down on costs. You should make sure that you consider the design, size and style as well as your taste and budget when selecting outdoor sectional furniture for your outdoor living space.
Related Reading: What the buffet cabinet called for a restaurant patio?

The Overall Look

The overall look means that it must complement the rest of your house or yard. Make sure that the colour and pattern of the outdoor sectional furniture go well with your house's decor. It is also important to consider its size and shape so that you can always find the right fit for your space. The outdoor sectional should also be considered in terms of its durability. You should make sure that it will last for a few years.

The Safety

The safety factor is very important if you plan to place your outdoor sectional furniture on hard or uneven ground surfaces or even concrete patios. The height of the furniture must be sufficient to support your weight. If you are considering a couch or sofa, it should also come with a matching ottoman. The ottoman will be able to support your legs and back. You should make sure that the ottoman and sofa set is comfortable enough for you to relax on it for hours. If you wish to go for sun loungers, you should ensure that the materials used can withstand outdoor conditions and not fade in direct sunlight. Most outdoor sectional furniture today comes with cup holders so that you can still enjoy your favourite drink while seated on your garden set.

Outdoor sectional furniture can be your home accessory to improve the value of your home. It will complement and complement the look of your home. You may even find it an investment as some outdoor sectional furniture can last you for years and save you money in the long run. Its services are great for outdoor entertaining, relaxing, or even just putting a nap under a safe umbrella. A good outdoor sofa sectional will be able to provide you with all these benefits and more. Make sure that you choose the right one that will fit your taste, style and budget.
FAQs
Q1: What are the safety considerations when choosing outdoor sectional furniture?
Check the furniture's height and stability, especially if placed on uneven or hard ground surfaces.
Look for supportive features like ottomans or matching accessories for couches and sofas.
Ensure the materials used can withstand outdoor conditions and resist fading in direct sunlight.
Cup holders are a useful addition to enjoy drinks while seated on the furniture.
Q2: Can outdoor sectional furniture be a long-term investment?
Yes, outdoor sectional furniture can last for years, providing value and saving money in the long run.
It enhances the value and appearance of your home and offers a comfortable space for outdoor activities.
Q3: How should I care for outdoor furniture?
Regularly clean the furniture using mild soap and water, and avoid harsh chemicals.
Store or cover the furniture during harsh weather conditions or when not in use.
Follow any specific care instructions provided by the manufacturer to ensure longevity.
You may want to know: