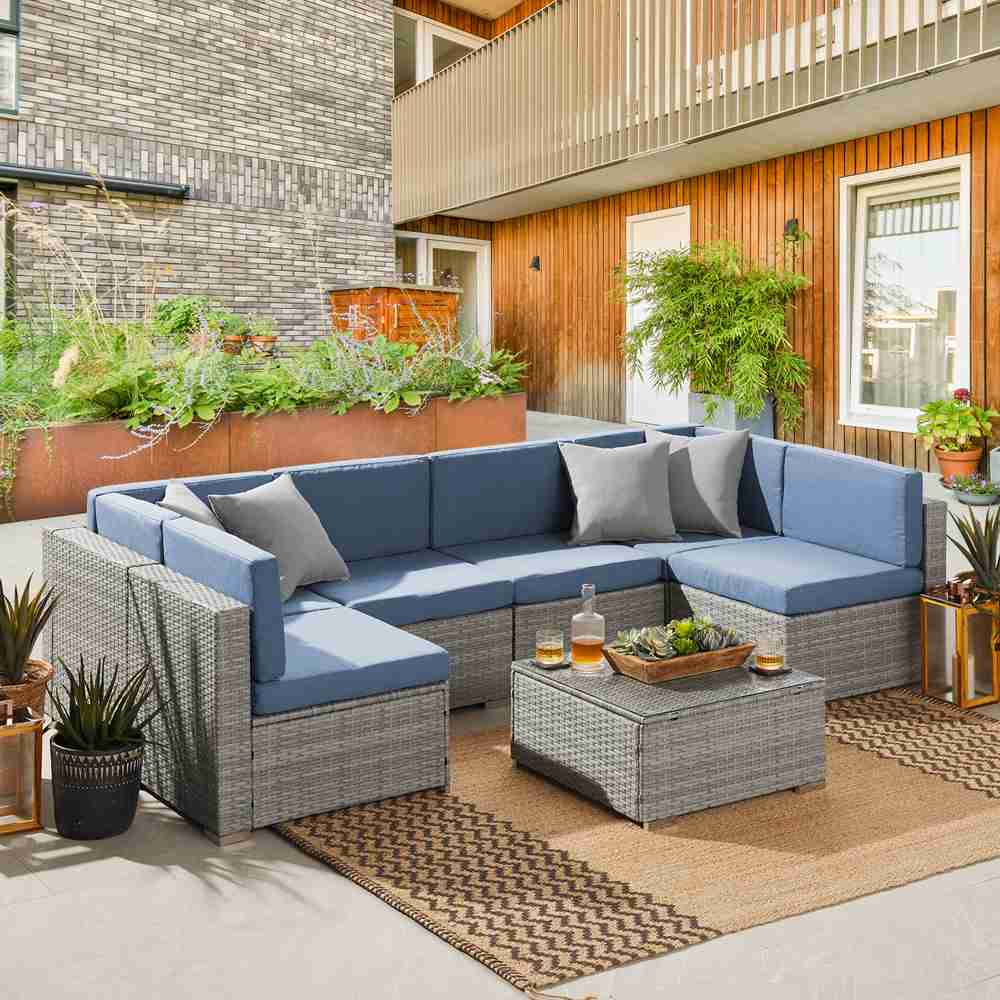 One of the exciting things about life is being able to enjoy the outdoors - connecting with nature, breathing fresh air, and staying under the warm sun. But these things will be holistically enjoyed with the best companion - a piece of outdoor furniture. Having reliable, durable, and comfortable outdoor furniture such as a modern outdoor sectional or an outdoor couch sectional design will enable you to have the best time of your life whether on your lawn, patio, deck, or balcony! It is time to start planning on updating your outdoor furniture as the warm weather draws near. Or even in the cold weather, appropriate modern outdoor sectional furniture can give you safety while relaxing outside!
 Contents[hide]
Enjoy More with an Improvised Outdoor Furniture
Enhanced Comfort
Durable Craftsmanship and Resistant Raw Materials

Stylish and Timeless Classic
Entertainment Value

To Sum Up
FAQs
You may want to know:
Enjoy More with an Improvised Outdoor Furniture
Your old patio furniture could be damaged after months of chilly winter weather. Hence, you may want to check if this old furniture can withstand the test of different seasons and climates. Furthermore, now is the ideal moment to spend money on new outdoor furniture, regardless of whether it is faded, worn out, or simply antiquated. Below are some of the factors on how our outdoor couch sectional types at Art Leon Furniture.
It could be the time to grab the best outdoor furniture because you deserve one that can define a homey sensation outside! Check out Art Leon's modern outdoor sectional furniture that is versatile and functional. 
Enhanced Comfort
As with interior furniture, our outdoor furniture provides the same level of cosiness and relaxation through the innovative materials they are made from. You may select from a choice of materials for new outdoor furniture that will provide comfort through ergonomic and anthropometric factors. You may choose from padded chairs and lounge furniture, chaise lounges, and couches of sectional configuration that are constructed of high-quality formulations that are designed for outdoor usage. These modern outdoor sectionals are guaranteed to give you a pleasurable seating experience.
On the other hand, the covers of the cushion mattresses set are made from breathable fabrics that have sufficient air circulation so you won't feel hot during the summer or cold during the autumn or winter months. It also has a wicker lining that does not absorb heat or cold temperature maintaining the most preferable temperature to its surface all year round. Its softness is also huggable guaranteeing the cosiest touch and caress for every season. 
Durable Craftsmanship and Resistant Raw Materials
Outdoor furniture is exposed to several damaging factors that cause it to deteriorate. Your furniture can survive for many years if it is made with the proper materials and crafting procedures. Our raw materials are processed and manufactured by applying coating and plasticizing before it is crafted for the elegance it is intended to give our customers. On the other hand, selecting outdoor furniture from Art Leon allows you to acquire the best piece of modern outdoor sectional there is in the furniture market for your needs and preferences. These outdoor couch sectional furniture are utilized to resist strong winds, rains, and UV radiation which prevents discolouration, damage, breakage, infestation, etc. Art Leon is truly a great return on your investment! 
What makes its durability truly reliable is that this outdoor sectional furniture comes with metal framing. It can withstand wet grounds and will not wilt or decay giving the strongest support to every inch of the furniture. Moreover, it can carry any weight and, you wouldn't have to worry about the frequency of use. Surely, kids and any family members will enjoy spending their time here, laugh out loud and jump their hearts out of joy!
Stylish and Timeless Classic
Art Leon boasts of different classic and timeless elegant styles from framing designs, colours, dimensions, and layerings that will suit your desires and preferences - or even the design of your garden or open space like patio, deck, etc. There are several fashionable ideas available that express your tastes whether bohemian, traditional, eclectic, or modern outdoor sectional designs. So choose the best for your needs now at Art Leon. Moreover, Art Leon products are not only limited to modern outdoor sectionals. You can also pick among accessories from centre tables, side tables, and fire pit tables for a more amazing outdoor party or relaxation activities!
For a conventional transitional and timeless classic of modern outdoor sectional, check out the wicker outdoor couch sectional with 7 pieces of sofa parts. If you are looking for a piece of outdoor sectional furniture that is perfect for poolside or water fountains and ponds, the Art Leon one-arm sofa design may suit you best. If your taste Is more inclined to a modern outdoor sectional that is minimalist in appearance, you may check out the signature Art Leon outdoor set too!
Entertainment Value
For outdoor entertainment, outdoor furniture is equally crucial. You may design a fashionable and comfortable outdoor living area for family and visitors with a modern outdoor couch sectional so it can accommodate more and more people to bond and have fun! By investing in new outdoor furniture, you can set the perfect mood for your family time, parties, and social events. The products are widely varied from farmings that are made of wick and steel, coated synthetic wood, rattan, and glass centrepieces. These modern outdoor sectionals have foams and mattresses that are of innovative spring designs that guarantee to give a bouncy and soft feel that supports the body's muscles, tissues, and bones. It follows the shape of the body giving the most breathable feeling where you can stay all day and enjoy the scenery of the surroundings!
To Sum Up
The varied choices at Art Leon Furniture will surely accentuate your outdoor living areas with elegance, comfort, and dynamic touch sensationally and visually. You now have the chance to establish an outdoor living room that is cosy and appealing. Therefore, buying a piece of new outdoor furniture is a terrific way to plump up your lifestyle and interest in escalating your home experience and connecting with the outdoor natural elements! Choose only Art Leon for holistic levels of beauty and comfort!
We recommend:
FAQs
Q1: What is a subtle couch sectional, and how can it enhance my outdoor space?
A subtle couch sectional is an outdoor seating arrangement made up of modular pieces, designed to be combined in various configurations as per space availability and user preference. This type of furniture can enhance an outdoor space by providing comfortable seating for socializing, lounging, and enjoying the great outdoors.
Q2: What are some things to consider when selecting a subtle couch sectional for my outdoor space?
When selecting a subtle couch sectional, consider the size of your outdoor space, the overall style of the furniture, and the materials it is made from. Look for high-quality materials that are weather-resistant, durable, and easy to maintain, such as wicker, aluminium, or teak.
Q3: How can I care for my subtle couch sectional to ensure it lasts for years to come?
To care for your subtle couch sectional, regularly clean cushions and frames with soap and water, taking care to dry them thoroughly. Store cushions indoors or in weatherproof storage when not in use. When winter arrives, cover it with a waterproof cover or move it indoors to protect it from snow, ice, and freezing temperatures.
You may want to know: